We can carry out much of the work for our clients from our company location. There we have access to a large blasting and spray booth and there is a large spray hall and storage shed for the mobile equipment. There we can, for example, blast or spray objects or apply synthetic resin epoxy and polyurethane wear layers to objects.
At our company location in Hoogeveen, we have a large blasting and spray booth and a large spray hall where we can carry out many of our activities for you.
Work in our blasting and spray booth
SSB Bouman works for large and small clients and is set to work on objects that vary from small to very large. Partly for this reason, we have the option of independently loading and unloading objects in a weight class of up to 30 tons. Transport trolleys (up to 60 tons load capacity) and so-called boat trailers are available for internal transport on the site and in the halls. A lifting capacity of 10 - 15 tons is available in the halls. Thanks to this capacity, we can carry out many different activities at our company location.
Blast cabin
In the hand blast cabin, which has a generous size of 8 by 25 metres, blasting is done with an inert abrasive: corundum (aluminium oxide). After each run, the abrasive is purified from steel and dust residues using a magnetic and dust cleaner. Compressed air is continuously oil and moisture free, thanks to the use of freeze dryers. An important advantage of blasting with corundum is that we can blast steel, stainless steel, aluminium and galvanised work. Naturally, there is also the possibility to blast with glass pearls. All blasting work is carried out and checked according to the ISO 8501-1 standard.
Spraying and drying booths
In well-conditioned spray booths, all conventional and modern spray systems can be applied via airless spray, electrostatic spraying, HVLP, hot spray installation and other spraying methods.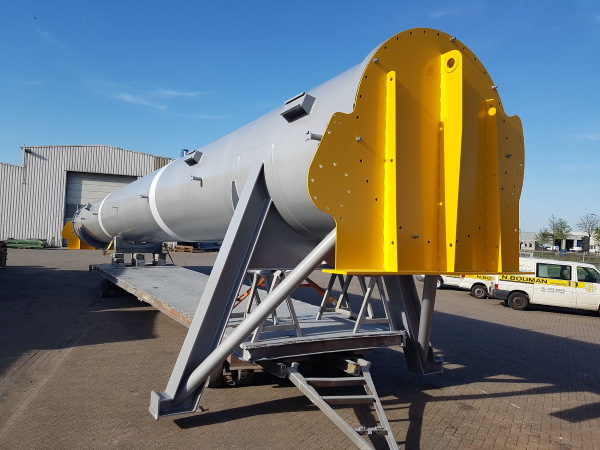 Metal spraying
Metal spraying is one of the specialisations of SSB Bouman. We would be happy to inform you about the possibilities for metal spraying in various layer thicknesses with zinc, aluminium or alloys.
Aluminising
The thermal spraying of pure aluminium in layer thicknesses> 150 microns is called aluminising. The aluminising is applied by SSB Bouman on materials for which a high life expectancy applies, with aluminium 99.5% or 99.0% depending on the customer's wishes.
Fire-resistant coatings
SSB Bouman is an officially approved applicator for applying fire-resistant coatings, such as Chartek and Pitt Char XP.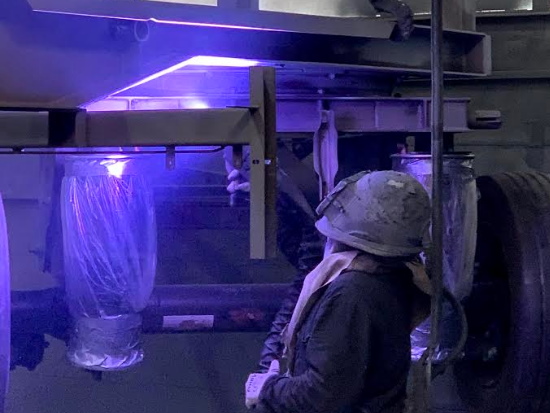 Sound-absorbing coatings
Sound-absorbing (low-noise) coatings can be applied to tail lifts and trailers. SSB Bouman uses a polyurethane coating with a Twaron fibre. This fibre provides soundproofing and anti-slip.